MAKE YOUR VOICE HEARD
REALTOR® Party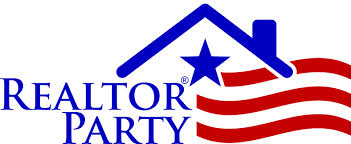 We are the REALTOR® Party: An energized movement of real estate professionals fighting to keep the dream of home ownership alive for this country.
Now more than ever, it is critical for REALTORS® across America to come together and speak with one voice about the stability a sound and dynamic real estate market brings to our communities. From city hall to the state house to the U.S. Capitol, our elected officials are making decisions that have a huge impact on the bottom line of REALTORS® and their customers. Through the support of REALTORS® like you, the REALTOR® Party represents your interests.
It is all about REALTORS® working together to VOTE, ACT and INVEST to protect the Dream of Home Ownership, to build vibrant communities, and to promote a strong U.S. economy.
So now it's time to...
---
GET OUT AND VOTE
Realtors® have the chance to make "the voice of real estate" heard loud and strong during every election. Of course that means they must vote. Make your voice heard and get out and vote! If you are not registered to vote see the helpful links below!
Chemung County Board of Elections
Schuyler County Board of Elections
Steuben County Board of Elections
---
CALLS FOR ACTION
When elected officials are considering legislation that affects the real estate industry, NAR and NYSAR call on their members to act. Simply by contacting your elected officials through an e-mail or a phone call, you can ensure that your business remains strong. This allows NAR and NYSAR members join together and speak with one loud, powerful voice. When you receive a Realtor® call for action let your voice be heard and respond, it is quick and easy.
---
LOBBY DAY HELD MAY 2, 2023
Members of this Association joined REALTORS® from across the state in educating our legislators about key industry issues during NYSAR's annual Lobby Day on Tuesday, May 2, 2023. Join NYSAR next year on Tuesday, April 30, 2024 and let your REALTOR® voices be heard! For more information on how you can help, contact Government Affairs Coordinator Derick King at (518)463-0300 ext. 238 or by email at dking@nysar.com.